Academics is the phase of life where you get the chance to learn. In the learning phase, it is common to make mistakes, but it is also important to learn more to not repeat those mistakes again.
You may have been making mistakes in spelling some of the English words since a long time and you may not even have the idea that its wrong. It might have costed you some valuable grades or your friends might have made fun of you for writing such words wrong.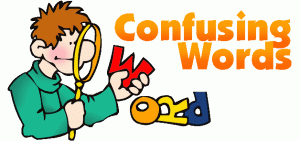 Thus, it is a must for you to learn about some of such words. So, as a homework help online provider, in this write-up, we will try to give you an of some of the words the you may often get confused about.
Already vs. All ready
The mistake that could happen in the usage of these words because of confusion created by double L.
However, you need to keep the space in mind while writing allready which means fully prepared.
Already is the word that means by this time and is more common in use.
Council vs. Counsel
The word Council refers to a governing body.
The other counsel includes S and E instead of the C and I in the case of council and it means advice or to give advice.
Dairy vs. Diary
It is also one pair of words of that is most commenly used and you may often could get confused about it.
Dairy is the word that refers to a place where milk products are made.
Diary is the personal journal that you use to write about personal or some other things.
Heard vs. Herd
Although these are the not the words that you use much in daily life, but you must have the knowledge about the same.
Heard is the past tense word for the word hear that means to listen.
You can use Herd to refer to a group of animals.
Lessen vs. Lesson
Do you know which is one of these words refer to whatever you learn in the lecture.
You are right if you say Lesson.
And if you are wrong if your answer is Lessen. Lessen is the word that has totally different meaning and it means to decrease.
So, it was an effort from us to help you learning about some of the commonly confused words. Hope it was helpful. You can look forward to the next part of the same article to learn more on the same topic.
If you are struggling to write your academic homework, then you can opt for our hw help and can get a quality homework from us.