Student life is pretty tough, you have to make efforts even to get admission in your favorite course. In some colleges, you can get admission on the basis of your marks or grades, but in many colleges the admission process is different and you not just have to face an entrance test but have to deal with group discussion or GD as well to get the admission. In this process, some students clear their entrances easily but can't deal with the pressure of a group discussion and subsequently lose the chance of getting admitted in college. So, keeping the importance of group discussion or GD in mind, we have come up with a write-up that tries to discuss how to do well in the group discussion or GD.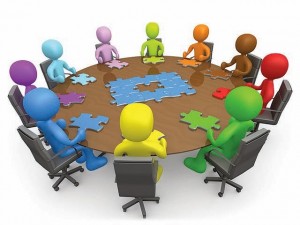 Preparation is a must
As soon as you come to know that a college or university conducts a group discussion round for the admission, you should start preparing for it keeping the nature of your course and group discussion requirements in mind. For example, if you have applied for admission in mass communication, then you should try to read newspapers and should be aware of the current affairs as much as possible.
Understand the topic
Cut to the day of the group discussion; it's a round in which you are going to have a discussion with many other candidates to get the admission. So, its pretty obvious that you can't take it lightly. That's why its a must for you to understand the GD before the discussion after you get the hang of the topic, you need to find out how much you know about the topic and what you are going to say if the invigilator asks you to start the group discussion.
 Stay confident
Although its a no brainer we will still suggest you to stay confident and keep calm while attending a group discussion. If you feel low in confidence because of not having the right answer for some issues, then you should just keep cool and try to focus on whatever the other candidates are saying. You should try to gain some information from their opinions and should try to present your thoughts later. One more thing, worrying won't help you in any way. So, just relax and try to find the ways to counter others point of views.
Give to the point opinion
Giving to the point opinion about something is a must for you because your marks might get deducted if you take too many words or time to convey your thoughts or say something that is irrelevant to the GD topic. So, you should make sure to give to the point opinion on something and need to keep in mind that you dont need to talk to a lot to crack GD, but you need to show how aware you are about something.
Avoid conflicts
Group discussion is something in which candidates discuss some issues. So, there are chances of having conflicts between some candidates and it might mar your chances of getting admission in the college if you lose cool and say something inappropriate. So, you need to make sure that you don't get in some heated conversation with someone.
So, you can try these tips if you have to face group discussion to get admission in college. We are a homework help online provider that is popular among the students from around the world. Our company offers quality hw help to the students at an affordable price. So, if you find it hard to deal with your homework, then you can try our homework help and can get a fantastic homework solution from us.