George Patton once said "a good plan today is better than a perfect plan tomorrow".  So it is always beneficial and productive to plan early. The to-do list kept on your table always makes you conscious about your priorities and tasks to be done ahead. To know things beforehand makes your tomorrow more organized and less stressful. Therefore making to-do list based on priority gives an individual self-empowerment and complete over oneself. The following various points can come handy in so far as preparing for tomorrow is concerned: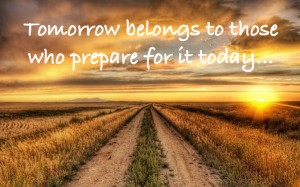 Think about the big picture: if you take time and think about prioritizing your goals then you will have a clear idea what is it that you want from your life? After writing down your long term goals visualize the larger picture and work towards it.
Keep track of your achievements: although there is no limit of satisfaction, take some time to acknowledge your achievements no matter how ordinary they may be. Keep a good note of what you feel you are proud of so that the efforts that you have put so far are justified.
Get rid of negativity: nothing can be more dangerous than being negative. Try to visualize the next day going to be perfect.
Show gratitude towards life: the things that make you happy and feel better are really important as a part of your life. So having gratitude towards life as a whole allows you to reach your fullest potential.
Push your boundaries: don't limit yourself and always try to push yourself for embracing new ideas. Step out of your comfort zone if you want to realize your dreams to be true.
Be always optimistic about tomorrow: start every day with a smile and tell yourself the day is going to be awesome. An optimistic attitude helps attain full potential and makes you productive.
For more information about educational topics, keep reading the blogs of our assignment help writing experts.