Students often find themselves struggling with what could be the best choice for the for them for the higher studies? Is it pursuing a full-time course or studying part-time would be better?
As a homework help online provider, we are aware of the significance of this topic and have come up with a write-up that tries to discuss the same. So, read on!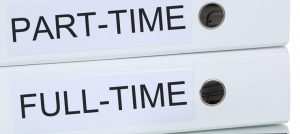 Duration
It is easily understandable that full-time education would require much time from you. In this type of learning, you have to study for around 30 to 40 hours per week. However, a full-time course does not take much time to complete as the procedure is fast.
Studying part time is different from full time. Here, you study at the weekends only that means you can give 10 to 20 hours to the studies every week. This way a course could take much time to complete.
Workload
Education workload means how much efforts you have to make while pursuing a type of education. Full-time education requires more efforts from you as you have to study more number of subjects in it. You may have to attend lots of lectures whole week, have to work on the assignments often and other academic tasks could also give you a headache.
One the other hand, you may not have to do such efforts while doing a part time course. It includes less numbers of subjects and you have to study at the weekends only.
Flexibility
As mentioned above, pursuing a full-time course means you have to give lots of time to lectures, coursework and other academic tasks whole year. It leaves you with no window to do some part-time job or internship.
Part-time study is something that allows you to pursue the other things such as a part-time or full-time job.
Which type of education is best for you?
So, you have got the idea of the difference between full-time and part-time education. But, you still might find it tough to choose the best option for you.
Well, you can pursue a full-time course if you just completed the high school and entering college as it is a must for you to give much time to studies. If you are a graduate and looking to pursue a postgraduate course, then you can do it part-time and can do some internship or job to gain job experience.
You may often find it tough to write a college homework due to various reasons. In such situation, it would be a wise choice to opt for our homework help and you can get a well-written homework from us.