In this world, everyone makes mistakes, not just as a child but even after reaching the adulthood. It happens because nobody is perfect and don't have the ability to perform an action without making some mistakes. But it has been seen that lots of people feel broken when they make some mistake and keep regretting it for a long time. However, there is a saying that goes like "your last mistake is your biggest teacher." So, it is better that you try to learn from your past mistakes rather than hurting yourself. To have a better insight of it, go through the article.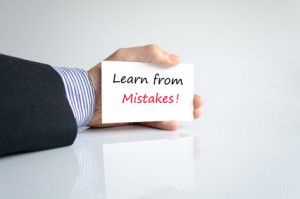 Learn to accept your mistake
The first thing you need to do is to stop running away and accept your mistake. As mentioned above that everyone makes mistakes in this world, but not everyone accepts their mistakes. This type of attitude could lead them to a situation where they might find themselves making even more mistakes. So, if you are willing to learn from your mistakes, then you must have to become brave and learn to accept your mistakes.
Give a thought to how you made the mistake
After you accept that you made a mistake, then you need to find out how and why you made the mistake.For example, if you failed in a subject, then you need to find out were your preparations good enough? Did that happen because of your lack of interest in a subject? Or you can try to think of how you managed your time in attempting the exam. You can ask yourself, did I make a mistake there?
Try to find out a solution
As soon as you become clear of where you made the mistake, you must put efforts to find out a solution to redeem yourself. Like if you didn't prepare well for the exams, then you need to make sure that you give importance to studying daily for a certain amount of time and gradually increase the amount of time on as the exams get closer.
Do your best to not repeat the same mistake
Okay, here comes the last but the most important point. Here we would like to ask you how did you feel when you made some mistake last time? Well, we hope the answer would be like "I felt so low" or something like that. One more question! Would you like to feel that way again? If not, then just make sure to not repeat the same mistake again and live a peaceful life.
So, this sums this write-up from us. Hope it could come handy to you. Our company is in homework help online sector and offers best quality homework solution to the students.Our company has got a  bunch of highly qualified homework help experts. These experts have excellent knowledge of homework writing and has got command over their English writing and can write a comprehensive homework for you keeping your university criteria in mind. So, if you are having difficulty in attempting your homework, then you can opt for our hw help. If you want to gain more info about our homework writing service, then you can talk to our expert via chat or call.