Aristotle said, "The educated differ from the uneducated as much as the living from the dead." In this era most of the people across the world are no educated and this is not a shocking news. Because misunderstanding, lack of knowledge and some other reasons create obstacle to be educated for some people. Knowledge through education assists us in exploring of the potential of human beings and drives us into a world of happiness and prosperity.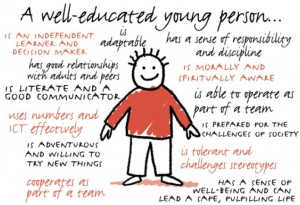 Why education is important? Top five reasons are given below. Let's start from the bottom:
Nobody can easily cheat on you.
Educated people are less to be cheated by anyone, whether it is in financial issues or in getting equal scopes. Frauds and cunning people can take chances of the uneducated fellows and loot their properties or money by signing documents. An educated fellow can easily identify if someone tries to cheat and avert himself or herself from being cheated.
Boost your confidence level to optimum.
Sometimes people ignore those folks who have not any qualification, though they have the ideas to halt the problem. That will automatically diminish your confidence level to zero. So it is quite essential first, you have to proof of your knowledge and an educational qualification which is needed to be an authentic speaker. Any uneducated person doesn't have that much confidence to stand and insistently. Education boosts up your confidence and enables you to tackle the world and lead with your thoughts.
Teaches to save natural resources, arts and cultures
Every educated person is a very responsible citizen, whether you agree or don't, that doesn't matter. They are aware of the significance of natural resources and its consequence if they are finished in the future. Hence, they put efforts towards its preservation and proper implementation. If these natural resources will be finished, then that will be an alarm to disaster. Like this our arts and cultures are the proud of every nation. They reflect the historical heritages. To save them, every citizen should take responsibility and only an educated person can do this. Simply!
Teaches to maintain peace and social harmony
A survey says, most of the criminals, burglars, pickpockets, smugglers, terrorist, dacoits and rapist are illiterate people. They can easily do anything which creates disturbances and break the peace of the world. Taking an example of a society, the unqualified people are irritable and troubling due to their lack of knowledge of moral values and regulation. Education promotes mutual co-operation and harmony inside the society and all over the world.
Innovate and discover noble things
It is no more a taboo that education enables people to discover and innovation different miracles to make our life sophisticated. Every finding of the human race, which has made our life so much urbane and posh, would have been incomplete without education. It can be considered as the precondition for innovation and generation of new things and science. We know about even beyond our universe that is also possible due to education.
It is the article written by one of our assignment help provider. You can follow us on Facebook and Google Plus..Stay Tuned for next post..:)