There can be times when you can get laughed at or get marks deducted for misspelling a word both in the academic and professional life. Well, it happens! Lots of people make the same mistake and become the target of the spelling nazis sometimes in life.
However, the smart students dont take it too seriously and give importance to learning for their academics and professional life rather than for the spelling nazis.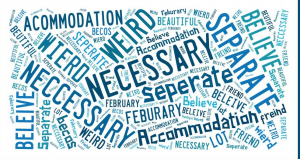 You might have the same aim and might want to learn about the common spelling mistakes you make often. Thus, as a homework help online provider, we have come up with a write-up that discusses the same. So, read on to learn more.
Your and You're
Your is the word that means you own something. For example, your house looks beautiful after the whitewash. Or how old is your baby?
When it comes to You're, it is the contraction of you are. You could understand it with this example, you're not performing well in the academics.
Weather and whether
Wheather is something that you experience everyday. Sometimes you enjoy warm sunshine, snow often makes the trees and roads even more beautiful and someday you have to deal with the rain.
Whether is the word that is used to show the doubt or choice or to express an investigation or enquiry. For example, I am not sure whether to write one more article today or not. Or Patrick called his cousin to know whether he was at home or not.
Then and than
It is something that i often get confused about as well. Maybe i will remember now. Then is used for time. Need an example? Here you go! Kevin went to New york to see his uncle and then he decided to go to Newark with his cousin for whatever reason.
Than is the word that is used for comparison. An easy example of it could be; Do you think Cristiano Ronaldo is better than Messi? I am asking a question, its just an example. Dont take it too seriously.
It's and its
Just like You're, it's also the contraction of it is or it has. An example of it could be; it's an interesting job to write blogs on the topics such as common words we often misspell.
Its is the word that indicates possession. You must have heard someone saying, i love this cat. Its golden fur shine in sunlight so beautifully.
Their, there, and they're
Their is the word that indicates possession. Example, Shaun and Mitchel are still determined to represent their country in the world cup.
You can use there to refer to a place or idea. For example, Henry wants to travel to England someday and wants to find a job there as well.
They're is contraction of they are. The right use of it could be like this; they're playing well at the moment and just need to keep the momentum going.
That said i will sum up this writing piece here. Hope it was helpful.
If you are struggling in writing an academic homework, then you can opt for our hw help and can get a well-written homework from us.