Teaching is a profession that requires you to put much efforts. In this profession, you have to be ready to give long lectures to help the students in getting the hang of a subject, have to give a helping hand to them in some project and have to assist them in writing a homework too.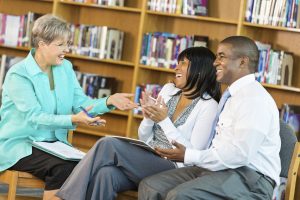 However, your job does not end here. Instead, you have to give some answer to the parents. It is quite reasonable as well because teacher and parents are the persons who understand a kid better than anyone else and they can chalk out the appropriate plans to help a kid reach success in life. Thus, it is necessary for you to understand the value of the parent-teacher communication and try to find out the ways to talk to them in the most suitable way. This way you will not only help a kid in performing well in the academics but also gain much respect among the parents. So, lets have a look at the ways you can take for the same purpose.
 Try to find out the best communication method to reach the parents
 As a teacher, you must be aware of the fact that not all the parents can be there to attend a parent-teacher meetup or might find it hard to get the time to discuss their kids progress. Thus, you need to give a thought to how could you reach them? Here, you can try to find out, is email would be a good option or newsletters could come handy? Is there any day that they can take out of their busy schedule to learn about their kids progress?
 Have a chat with parents at drop-off and pick-up
 If you cannot find out any of the methods mentioned above to reach your kids parents, then you can try to have to chat with them at the time of drop-off and pick-up. Although, it is quite obvious that not all the students drop-off and pick up their kids to school, however, you can reach some of the parents. This way of having a parent-teacher meeting is effective because it does not consume your and parents time and you can get the chance to discuss the kids positives on the daily basis.
 Discuss the positives and try to sort out the problem a kid face
 Next thing you need to do when you get the chance to talk to your kids parents is that discuss the positives that you see in the kid. This way parents will feel satisfied finding their kid is progressing well and may also feel happy as you get applauded for your efforts. With that, you must not convey negative stuff to the parents if a kid is not doing well in the academics. Instead, you must try to have a positive conversation with the parents and must give importance to coming up with the solution rather than discussing the problems.
 So, try these tips to connect with your students parents and help your students in achieving success.
 We are a homework help online portal where lots of students come up to get their homework done. Our company has hired a team of highly-qualified and talented hw help experts. These experts possess ample homework writing as well as English writing skills and can write a homework that matches university requirements. So, if any of your students is finding it hard to churn out a homework, then you can refer our homework help to them.